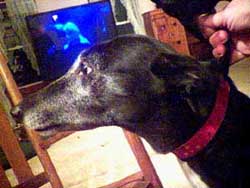 Ironhorse Stylin' Pups
Designs by Kim Bunger
---
Martingale Collars
and Leads

These elegant Martingale collars and leads are hand-made to your order by Kim.
A portion of all proceeds go to Italian Greyhound Rescue.

You can choose from many different decorative patterns, with either gold or silver rings and choices on color of web backing for the collar and matching solid leash color. Size is determined by measuring the dog around the neck where the collar will rest comfortably on the narrow part of the neck.

If you see something you wish to order, but don't use PayPal, you can print our order form and mail it to us with a check or money order. Once you print the form, return to this page to view the choices to fill in on the form.

Please scroll down to begin viewing the collar/leash selections available. View the decorative patterns and web colors here prior to selecting your choice for collar style. There are lots of patterns to choose from! Any of the patterns can be used with any of the collar/leash styles. Remember to state both trim # and web color letter when placing your order. If you have questions, please contact Kim Bunger at topironhorse2000@hotmail.com.
---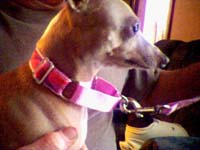 Style A - Martingale collar with adjustable slide; separate solid-colored leash with snap swivel hook -- $20.00
---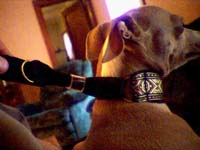 Style C - Martingale Combo (single-piece patterned collar with solid-colored leash attached); has an additional ring for attaching a second dog/lead) -- $20.00
---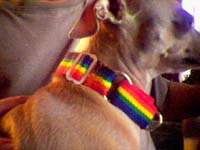 Style D - Martingale collar with adjustable slide, without leash -- $16.00
---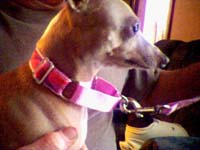 Style F - Solid-Color Leash with Snap Hook -- $7.00
---