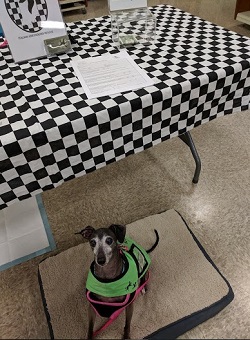 &nbsp

Adoption Event at PetSmart
Friday, February 22, 2019 - 6 pm to 8 pm
Saturday, February 23, 2019 - 11 am to 3 pm
Sunday, February 24, 2019 - 11 am to 3 pm
10035 Lima Road, Fort Wayne, IN
Bring your Iggy or other pups, the kids, the whole family and come on out for a visit!
Volunteers are needed to help staff the table for the weekend. Please contact Ruth Beall (rhbeall@hotmail.com) if you can help!

* * * * *
Circle of Caring
Be a continuing donor - consider making a recurring donation to IG Rescue! View the video for the Circle of Caring here. All the Iggies in the video are from recent mass intakes across the country. These pups and many like them will directly benefit from your recurring donations.

&nbsp

&nbsp

&nbsp

&nbsp
&nbsp Sprite has a heart for IG Rescue!

Sprite says Happy Valentine's Day to all our friends and supporters in rescue.


All of our fosters are loved and cared for by their foster families. Every one is special in his or her own way. From the day they enter foster care, they work their ways into our hearts and stay there, long after they are adopted into loving homes. Happy Valentines Day to all of our fosters and previous fosters, and to all the loving homes out there for them!


Thank You, Thank You, Thank You for your support, from the depths of our hearts!

* * * * *
"Available Italian Greyhounds" pages to see who is waiting for you!

* * * * *
Have you considered a senior pup?


Seniors still have lots of love to give and most still have tons of energy. We have lots of amazing senior pups that are looking for their forever homes. Will you open your home and hearts to a senior pup?